FREE Planning & Estimate
Give us a location and we'll give you a comprehensive Mailing Plan and Estimate.
Multiple Size Options
Design and Print the most unique, cost-effective EDDM options vetted by USPS staff.
Specialty Leave-Behind Options
Get perforated tearaway cards or self-attached business cards upon request.
Special Prices for Nonprofit Organizations who are recognized by USPS.
Every Door Direct Mailer (or EDDM) is a discount postage method available to the public for marketing purposes. As such EDDM mailings have certain conditions that must be met to fulfill the requirements and receive discount postage. The four areas that these focus around are:
Size of the piece.
Entry into the post office.
Pre-mailing Preparation.
Volume (quantity).
PriorityPrintService.com can take all the mystery out of EDDM by preparing a specialized quote sheet just for you. 
Eddm pricing
Using our full service options you can have your postcard design, printed, and mailed for as little as 7 cents above postage cost. This facctors in card size, material, and overall quantity. 
EDDM custom printing quote
Trifold, Letterfold, Brochures. Various Paper Weights. Orders Start At 25 Pieces. All Prices Include Tax And Ground Shipping.
Customize Product
Oversize Trifold Brochures Printed on 100lb Gloss text or 100lb Gloss Cardstock. Orders Start At 25 Pieces. All Prices Include Tax And FedEx Ground Shipping.
Customize Product
Spot UV Business Cards, standard size (2×3.5 U.S.)
Paper: 16pt Matte
Shipping: Free 3 Day UPS Shipping
Customize Product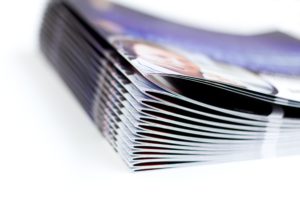 Booklets
Formatting is booklet can be a daunting task. Even with the proper tools, all the content, and the needed experience (and/or patience), building a booklet
Read More »