Custom presentation folders small quantity orders.
Best Fit for small quantity orders
Custom Folder Usage
Custom Branded Pocket Folders can be the difference between a well-organized and impressive sales presentation and an unremarkable mess. 
Even if you don't require a branded folder upfront in your dealings with a client, your goal is not only to complete the first transaction, but to impress them in every way. 
Even if this means something like sending them a hard copy of their invoice in a professionally printed and customized folder. 
Custom Folder General Product Info
There are many  options available, but you must request a price (using the form on this page, or any other method of contact you're comfortable with). 
Custom Presentation Folders Small Quantity Orders
It is difficult to find good quality work on a custom presentation folder printing and in small quantity. This is because many machines that are geared toward fast-short runs cannot print the size required for custom presentation folders. We are happy to offer our single pocket presentation folder in quantities as low as a single piece. We recently expanded to include offering mini 6×9 folders soon as well. Some varieties, such as double pockets or legal size presentation folders are simply out of reach of today's technology to print in small batches, though we feature them in larger runs.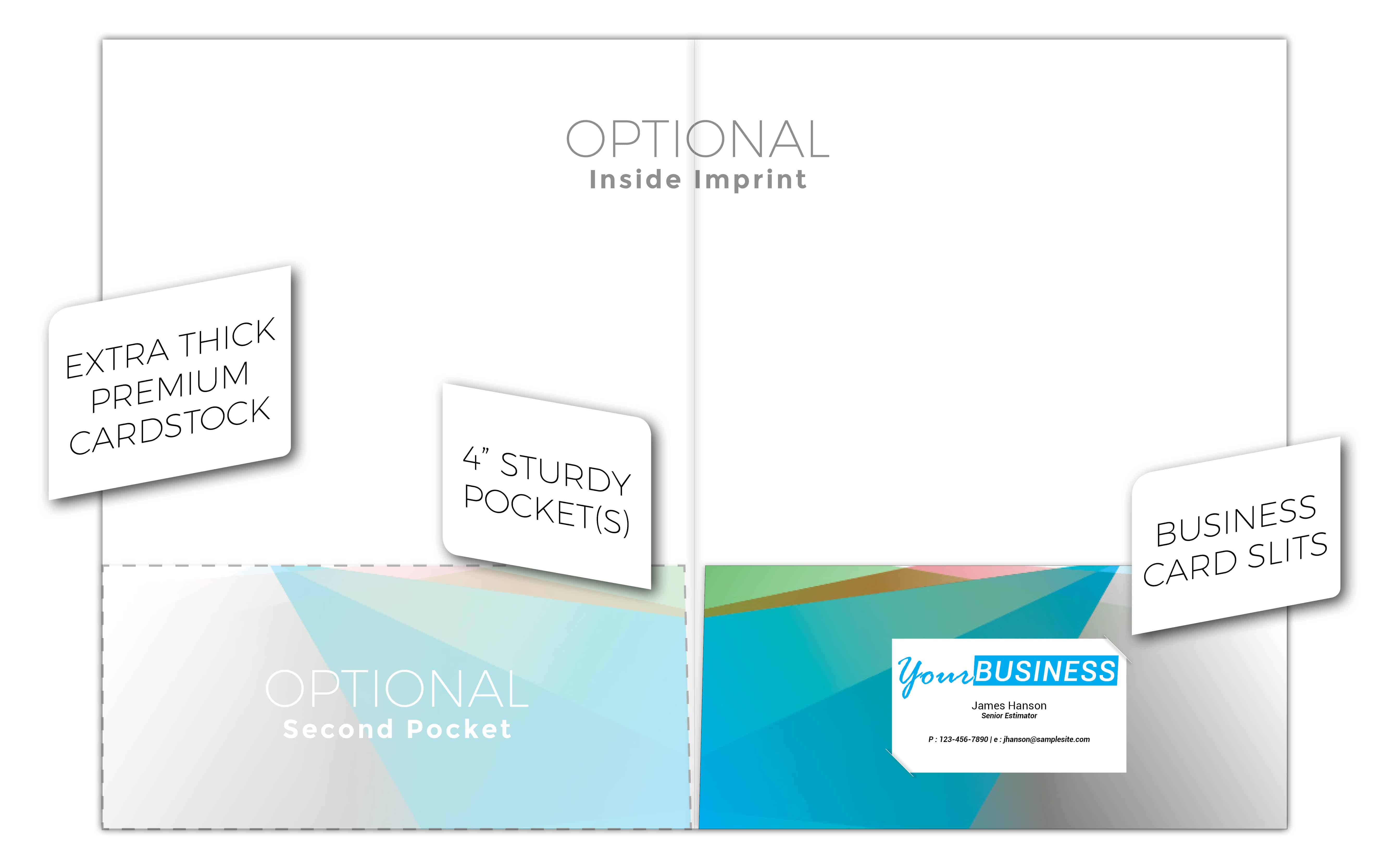 Presentation folders are custom printed pocket folders, usually branded with your logo image and company information, that are frequently used to contain sales packets that consist of greeting cards, hang tags, rack cards, stickers, or other marketing products.
Some companies will use them to transport a file or other documents. 
Pocket folders are typically made from white paper of various types, like gloss cover (or cardstock).
Some versions of our promotional folders can also be coated with a dull matte texture or a thick glossy UV laminate.
Generally speaking any option is available as a custom order. However, 14pt c2S (coated both sides) cardstock has become the normal option in recent years. All of our presentation folders, unless otherwise noted, are printed on 14pt coated cardstock.
We can offer a wide range of paper and synthetic materials, but we don't make these available for automated online ordering. 
Custom Folders 
Yes, we cut supply a quote for any size you may need. The sizes made available for online orders are the most popular sizes, but anything is possible, you just have to ask. 
Presentation folder printing templates are available in their respective product pages. Each template is designed particularly for each product. If you need a certain template that you don't see, please reach out to us and we will provide you with a template you can use. 
Custom Folder Deadline
It certainly doesn't hurt to ask, and depending on transit time and shipping arrangements we'll be happy to help. We have been known to meet tight deadlines.
Yes, but usually require an envelope. A 10x13 catalog-style envelope is the best for the job and can make it easy for you to send envelopes filled with materials security through the mail. This takes 2 stamps for 1oz and 15 cents worth of postage for each additional ounce.
In the case of using our direct mail mailing services, the answer is technically yes. You can send full size business folders through the mail (sometimes even without an envelope) depending on the mailing method and the entry code used. If you are interested in this option use the form at the bottom of this page to inquire further.
Yes all custom presentation folders come default with U.S. Standard Size Business Card slits. For other options you do not see on the page, please reach out for a custom quote.