Carbonless Business Forms
Multi-part business forms you can use in the field.
Padded Versions Available
Get a stack of 25, 50, or 100 sets of multi-part business forms in a convenient book.
Multiple Size Options
Choose between 8.5x14, 8.5x11, and 8.5x5.5.
Free Ground Shipping
No coupons, no memberships, just fast, free shipping with every purchase.
If you don't see your form options available for ordering, send us a picturing using the form below and we will supply a custom quote.
business forms Online Ordering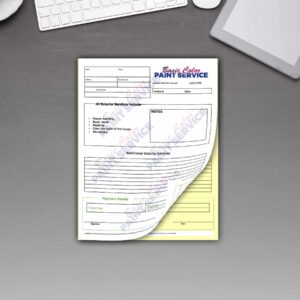 Ships as soon as 48 Hours  | FREE FedEx Ground Printing | Upload or Email Artwork
Customize Product
business forms Info & FAQ
PriorityPrintService.com is the best way to get your business form printing. Our range of paper options, combine with customer service, flexible order quantities, and free shipping make us the most reliable choice for ordering business forms. 
Here's some things to keep in mind when ordering. 
Not all business forms can support bleeds (when printing is off the edge of the sheet). So be sure to read the product descriptions to know what you're getting into.

These are the papers available for online ordering, more papers are available via a custom quote:

2 Part NCR, is the typically carbon less copy form paper. It's typical colors are a white original and canary (light yellow) copy.
3 Part NCR, produces and original plus two copies. The typical colors are a white original with light yellow and pink copies.

NCR forms can be bound in books consisting of 25, 50, or 100 sets.
Automated Numbering may also be an option, but requires a custom quote.
Business Forms are still a popular way to leave estimates, invoices, and correspondence with your clients. In fact, many customers appreciate being presented with something physically in writing in addition to a digital copy.
business forms printing timeline
business forms custom printing quote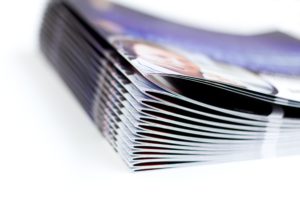 Guides
Formatting is booklet can be a daunting task. Even with the proper tools, all the content, and the needed experience (and/or patience), building a booklet
Read More »
Support
Would you attend a hairstylist without a recommendation from a friend? What about having somebody prepare your taxes? in keeping with a recent Nielsen's Harris
Read More »